Write Better
Designed for Novelists
The Quill was designed specifically for writing novels, so you get features created for your needs, instead of trying to work with general purpose tools.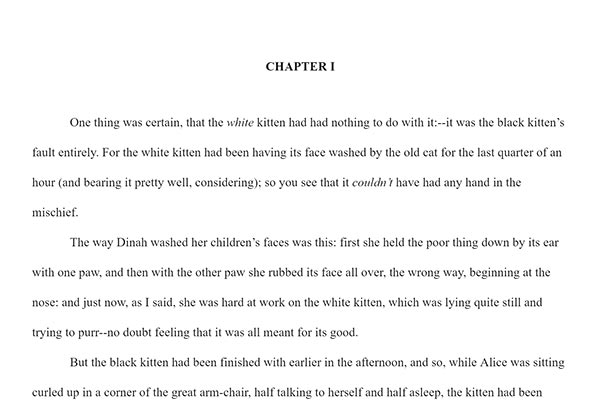 Spell Check
Get spell checking as you write, or turn it off when you want to avoid distractions. Add unrecognized words and names to your dictionary per manuscript or for all manuscripts.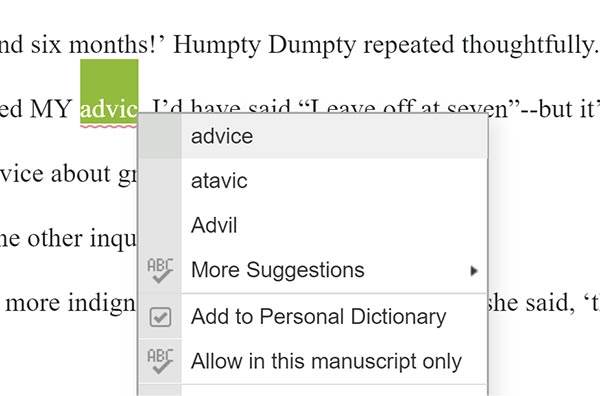 Dictionary / Thesaurus
Not sure you used the right word? Right click any word and select "Define." The dictionary and thesaurus are built right in so you don't have to leave your story.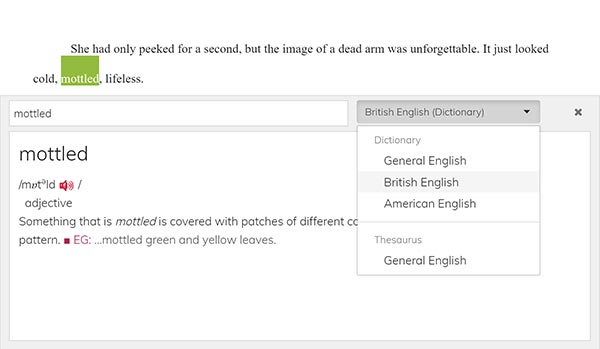 Character Profiles
Brown hair? Black hair? Keep track of every character detail by filling out a profile for each character. Review them without even leaving your story to make sure you nail that consistency.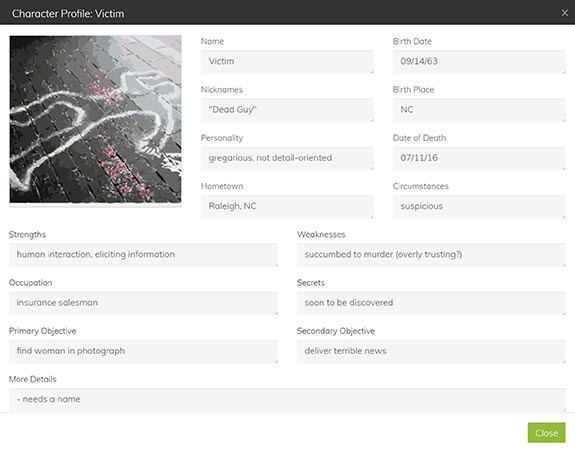 Compare Chapters
Craft a well-paced novel by comparing chapter lengths as you go so you aren't surprised when you hear Chapter 17 is way too long.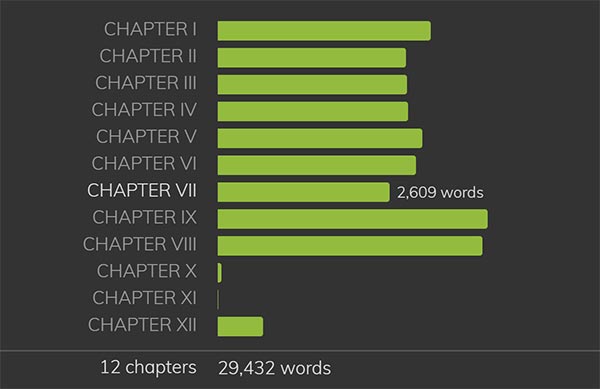 Color Themes
Set the mood for your novels by choosing a color theme. Three books at once? No worries. Assigning a different color to each one will help you keep them straight.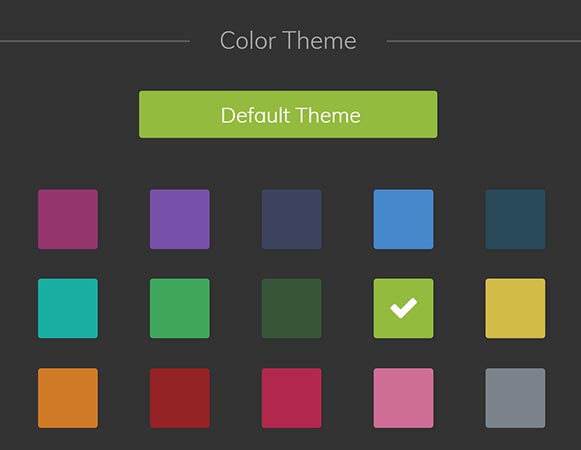 Be Productive
Write Anywhere
Write, revise, and read on any internet-connected device without installing anything. All you need is a web browser.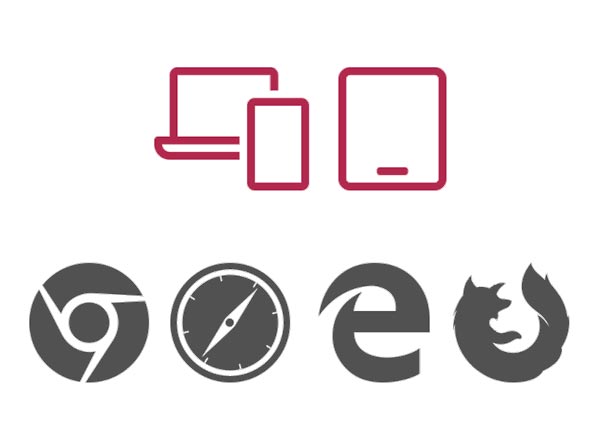 Rich-text editing
What you see is what you get. Format your manuscript as you write with bold, italics, strikethrough, text alignment, etc.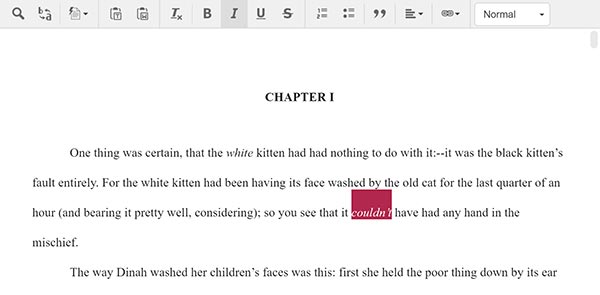 To Dos
Manage a list of tasks you need to complete, then check them off your to do list without leaving your manuscript.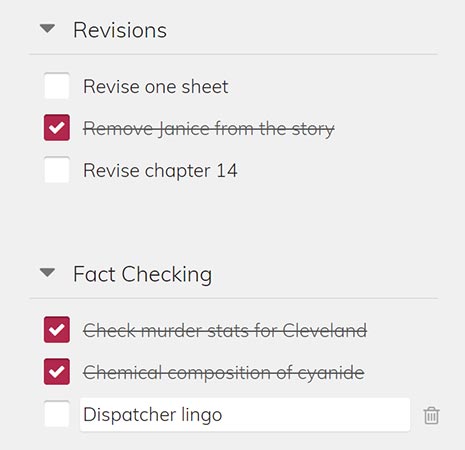 Drag and Drop
No need to copy and paste thousands of words at once. Re-order chapters with ease. Just drag, drop, and you're done.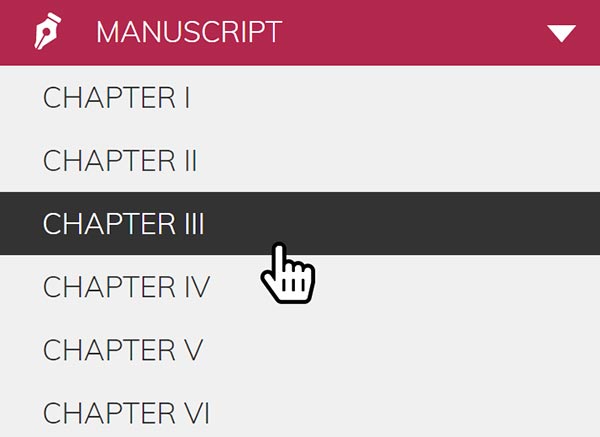 Leave Comments
Avoid distractions by leaving comments for your future self. Stay organized by color coding each comment.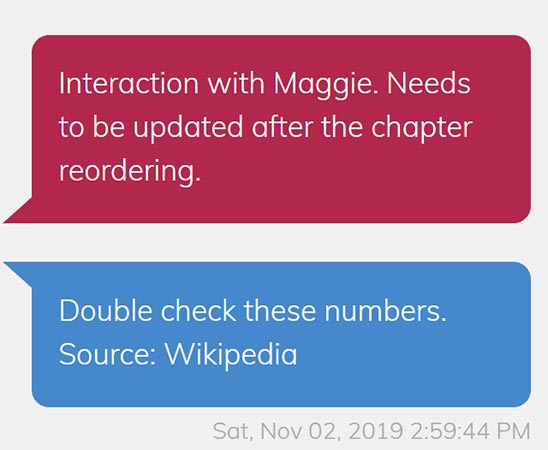 Search Everywhere
Forget where you put that scene? Search across your entire manuscript, notes, research, and even outtakes (deleted chapters).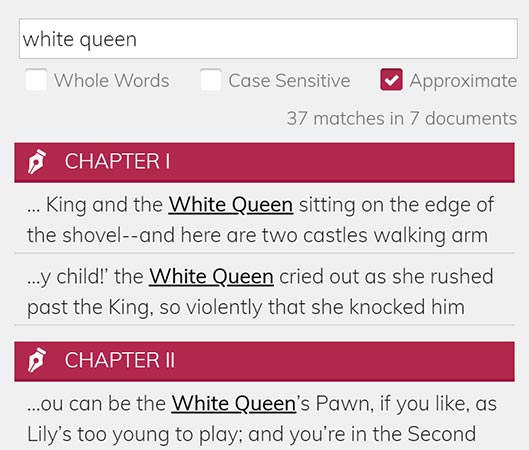 Stay Motivated
Distraction-free Writing
Go fullscreen and hide all the distractions when you need a little extra focus.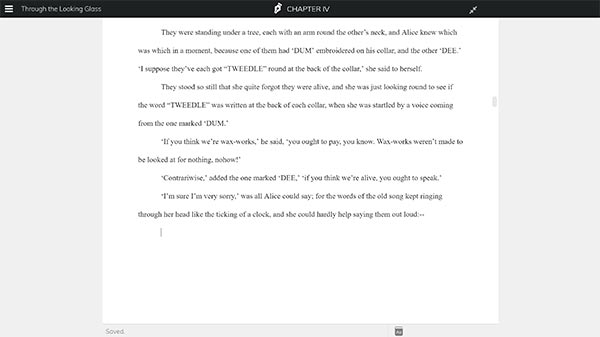 Writing Stats & Goals
Hold yourself accountable. Compare your word counts from last week and this week to ensure you keep making progress.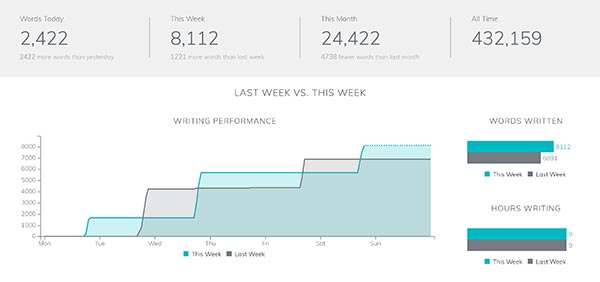 Clean Modern Feel
Don't be distracted by antiquated and cluttered interfaces. The Quill was designed to help you feel good while you write.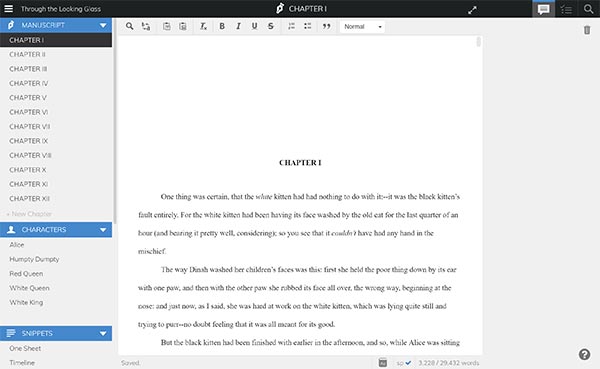 Set Goals
Already started your latest work? Import from MS Word or copy and paste to get started. The Quill will even auto-detect your chapters.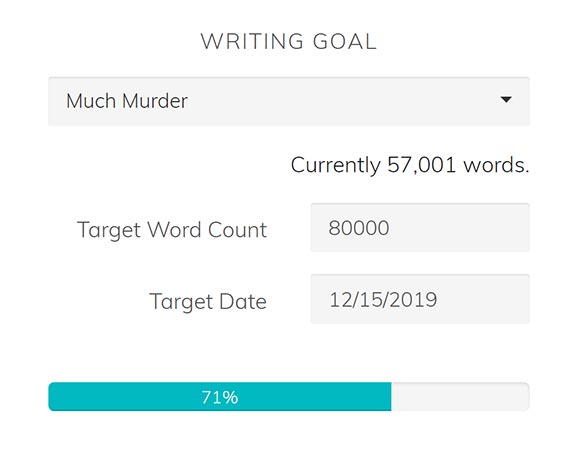 Predict Completion Dates
Every writing session brings you closer to your goal. The Quill will let you know if you need to pick up the pace or are surging ahead.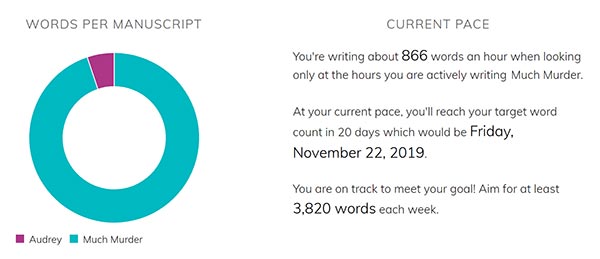 Feel Safe
Continuous backups
Delete and revise without fear. Your manuscripts are continuously backed up as you write, so you can stop emailing yourself copies.

Secure & Encrypted
Guard your life's work with battle-tested account security and bank-level encryption. Every manuscript is encrypted before it leaves your computer.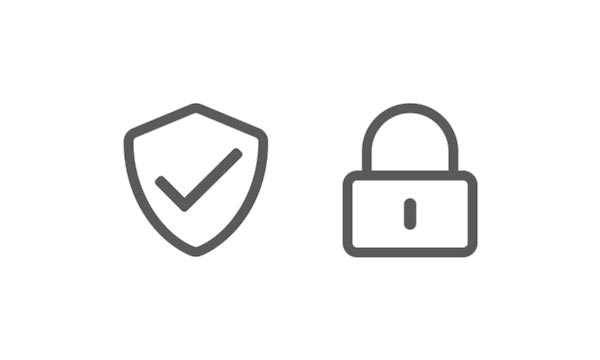 Export Anytime
They are your words, so you can export them any time, forever. Export to Word, html, or plain text.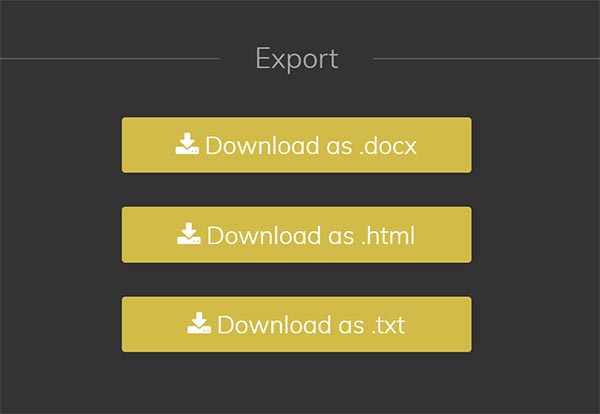 Compare
We worked hard to include all the features you need and will continue adding features you want. But make an informed decision—compare features across the most common writing tools before you decide.
| Feature | The Quill | Google Docs | MS Word | Scrivener | Ulysses | Novlr |
| --- | --- | --- | --- | --- | --- | --- |
| Online writing (no installation required) | | | | | | |
| WYSIWYG rich-text editing (bold/italic/etc) | | | | | | |
| Spell check | | | | | | |
| Grammar check | | | | | | |
| Built-in dictionary | | | | | | |
| Built-in thesaurus | | | | | | |
| Continuous backups | | | | | | |
| Bank-level encryption | | | | | | |
| To do lists | | | | | | |
| Character profiles | | | | | | |
| Drag and drop chapter organization | | | | | | |
| Outtakes, research, snippets with your manuscript | | | | | | |
| Leave comments anywhere | | | | | | |
| Color-code your comments | | | | | | |
| Designed for Novelists | | | | | | |
| Clean, modern feel | | | | | | |
| Distraction-free writing | | | | | | |
| Choose a color theme for each manuscript | | | | | | |
| Import from Word | | | | | | |
| Autodetect chapters on import | | | | | | |
| Export to Word | | | | | | |
| Export to HTML | | | | | | |
| Export to plain text | | | | | | |
| Export to ePub | | | | | | |
| Word count goals | | | | | | |
| Predict completion dates | | | | | | |
| Track word count progress | | | | | | |
| Historical writing stats | | | | | | |
| View and compare chapter lengths | | | | | | |
| Search across complete manuscript | | | | | | |
| Search research, outtakes, snippets | | | | | | |
| MacOS | | | | | | |
| Windows | | | | | | |
| Tablets (iOS, Android) | | | | | | |
| Phones (iOS, Android) | | | | | | |
| Continue to write offline | | | | | | |
| Free to get started | | | | | | |